Become a Member
We are always looking for new members who are positive role models and have a zeal for getting involved and helping others. If that describes you, we'd love to have you join us!
Lion Dennis Kloepping, Membership Chair
Email: djkloepping@gmail.com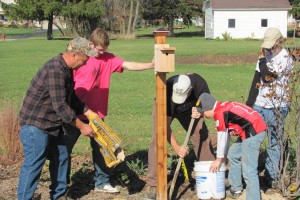 Phone: 608-576-3837
New members must be sponsored by a current Marshall Lion in good standing.
Help with a Project or Event
Contact any Lion or Lion Lee Hellenbrand, Park Chair
Email:  leehellenbrand1@gmail.com
Phone: 608-669-7302
Make a Donation
We are very appreciative of the support we receive from the Marshall Community and area. Your generosity helps us serve others!
Contact any Lion or Lion Layne Herried, Treasurer
Email: lgherried@gmail.com
Phone: 608-239-0961
Or mail donations to:
Marshall Lions Club Foundation Inc
P.O. Box 655
Marshall, WI 53559
Marshall Lions Club Foundation Inc is a 501(c)3 Nonprofit Organization – Federal ID #81-1695832