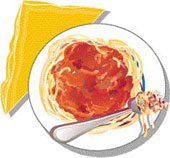 Everyone loves Easter Egg Hunts! This annual event is coming right up on Palm Sunday, March 29th from 11 am to 4 pm at Fireman's Park. It combines great spaghetti for the family and friends and an Easter egg hunt and visit from the Easter Bunny for the little ones (1 – 10 yrs). The day ends with a raffle drawing where $1,250 in cash prizes will be given away! You need not be present to win. Meal tickets will be sold in advance and at the door.


Pick up games of euchre and sheepshead are always at hand in the lower level of the Legion as well. Come join us. It's more fun when you're there!

—-
Spaghetti is served from 11:00 a.m. until 4:00 p.m. Adults: $6.50, kids 5-12: $4.50 and kids under 5 are free. Easter Egg Hunt is at 2 pm with separate areas for kids ages 1-3 and 4-10 yrs.
Contact Lion Dave Easley at 655-4781 or Lion Paul Wehking at 655-1354 for meal or raffle tickets.