Come Out and enjoy our post pandemic brat & burger fry on June 11th at Lion's Park!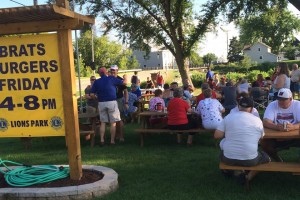 Join your friends, family, and the Marshall Lions for a summer Community Brat and Burger Fry at Lion's Park. It's on June 11th from 4-8pm. Come out and join the celebration for enduring the dreaded Covid 19 pandemic! Picnic tables will be spaced out following Dane County health and safety recommendations.
Menu Includes: Brats, Burgers, Hot Dogs, our world famous Curly Fries, Beans, Potato Salad,  Soft Drinks, Beer and Hard Lemonade.
Curbside carryouts available at this event, call Lion Paul with your order at 608.347.4959

Special Features: 
* Those who paddle in via the Maunesha River get a free beverage. Simply show your paddle to our beverage tenders for a free beverage of your choice!