Brats & Burgers Ready at 11:00am on May 12th at Lion's Park! Serving food till 8:00pm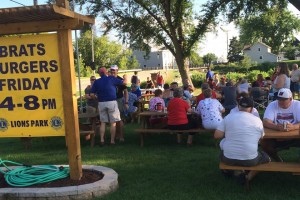 Join your friends, family, and the Marshall Lions for a summer Community Brat and Burger Fry at Lion's Park on Friday, May 12th.
Menu Includes: Brats, Burgers, Hot Dogs,  Potato Salad, Candy, Soft Drinks, Beer and Hard Lemonade.
Curbside carry outs available at this event, call Lion Dani with your order at 608.469.6458

Special Features: 
* Those who paddle in via the Maunesha River get a free beverage. Simply show your paddle to our beverage tenders for a free beverage of your choice!
* Bean Bags will be set up and available for friendly games