Hey, welcome to the start of the second half of summer! Come out and join your friends, family, and the Marshall Lions for our third community event of the season at Lion's Park on Friday July 15th. While there, enjoy the many new improvements to Lion's Park including the new pier and kayak/canoe launch, shipwreck play area complete with pirate flag, an elliptical exercise machine, the beautiful rain garden with native plantings, and  a newly built indoor uni-sex bathroom!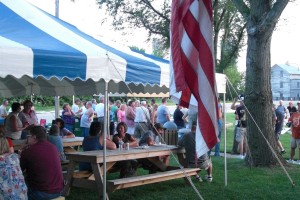 Oh yea…don't forget to get a drink from the Lions drinking fountain!
Menu Includes: Brats, Burgers, hot dogs, beans, potato salad, chips, candy, soft drinks, beer and hard lemonade. We will be serving food from 4pm-8pm.
Special Features:
* Bean Bag Tourney starting at 6 pm!
* Those who paddle in via the Maunesha River get a free beverage. Simply show your paddle to our beverage tenders for a free beverage of your choice!`